Year in Review: OONI in 2019
As the new decade begins, we publish this post to share some OONI highlights from 2019. We also share some thoughts for 2020.
New Apps
Revamped OONI Probe Mobile App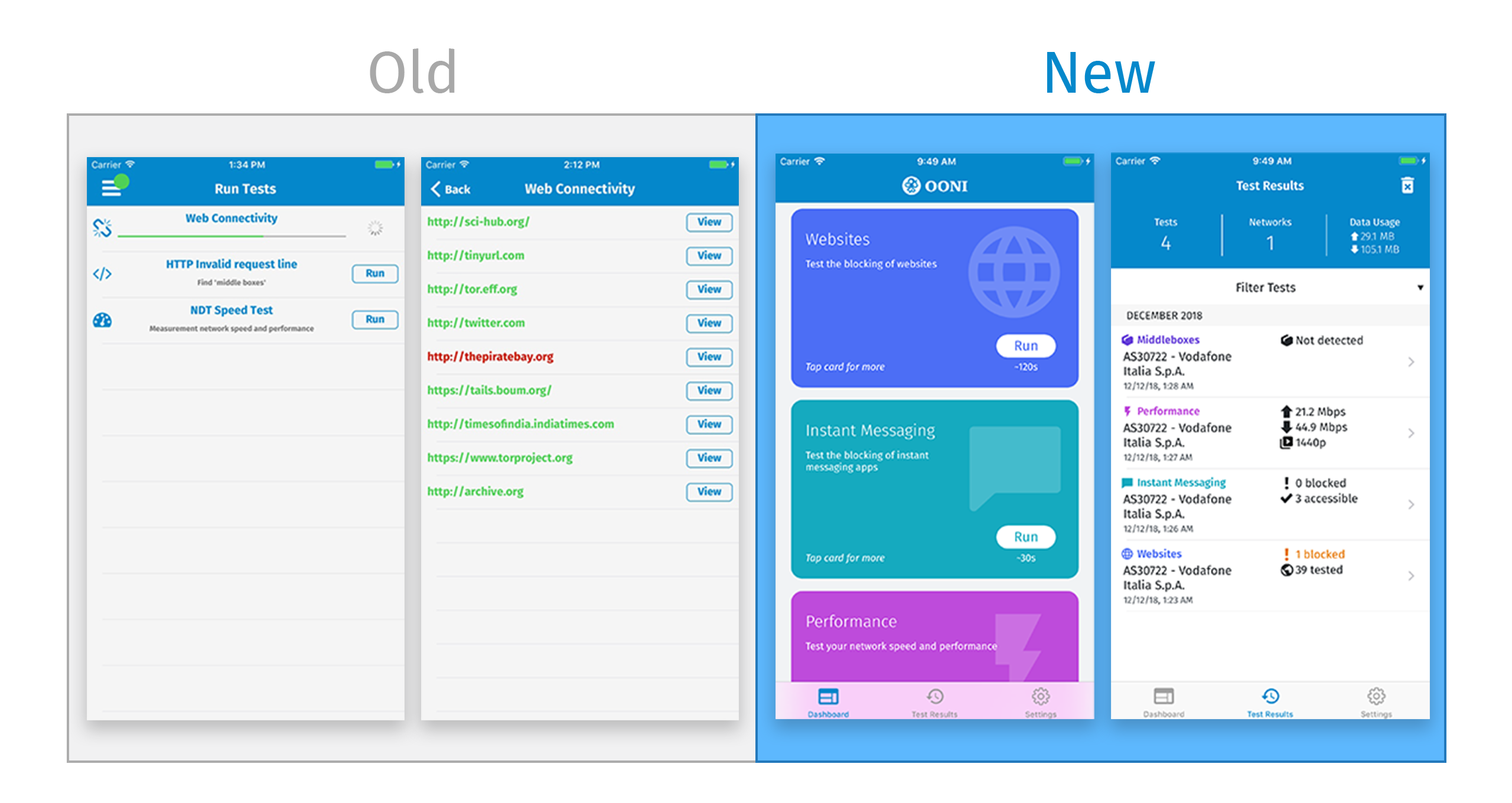 Image: Comparison of old and new OONI Probe mobile app
We launched OONI Probe mobile 2.0! OONI Probe is free and open source software designed to measure internet censorship and various forms of network interference.
The new OONI Probe mobile app has been revamped entirely based on community feedback and features requests from the last years, following the initial launch of the OONI Probe mobile app in February 2017.
Highlights from the revamped OONI Probe mobile app include:
Major UI overhaul. The new app has an entirely new design and UX, simplified navigation, and improved presentation of test results.

Enhanced website testing. You can test the websites of your choice directly through the OONI Probe mobile app! You can also test the URLs included in the Citizen Lab's country-specific test lists, and choose which categories of sites to test.

Overview of test results. You can now have a bird's eye view of all your OONI Probe test results, enabling comparison.

Data usage. You can keep track of how much of your mobile data the OONI Probe app is using.
Try out the new OONI Probe mobile app! It's available for Android, F-Droid, and iOS.
Thanks to support from the Localization Lab community, the app has been translated to the following 15 languages: Arabic, Farsi, Chinese, Russian, Hindi, Spanish, French, Portuguese, Catalan, Turkish, Italian, Albanian, Greek, Slovak, German.
New OONI Probe Desktop App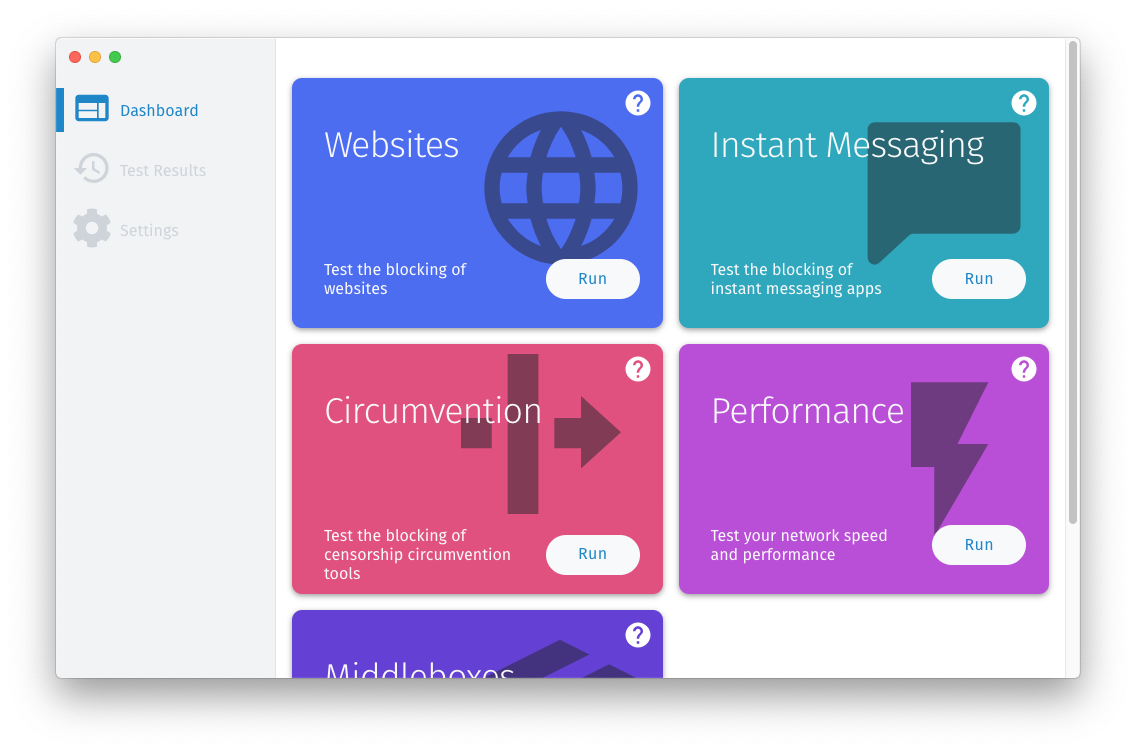 Image: New OONI Probe desktop app
Throughout 2019, we worked on developing the first native OONI Probe desktop app, which we plan to publicly launch soon!
Supporting OONI Probe on Windows has been a popular community request over the last years. We previously supported macOS and Linux users with a command line version of OONI Probe that could also be run from a web user interface. However, setting up OONI Probe from the terminal presented a technical barrier for many community members. Furthermore, many human rights defenders globally (that are interested in running OONI Probe) use Windows, which wasn't previously supported.
Now, Windows and macOS users will be able to easily install and run OONI Probe through the upcoming new desktop app. We have generally tried to create a seamless experience between the OONI Probe mobile and desktop apps, which is why you will notice that the design and UX of the two apps is very similar, and that they include many of the same tests.
However, the new OONI Probe desktop app includes some different features in comparison to the OONI Probe mobile app:
Circumvention tool tests. You can measure the blocking of Tor and Psiphon with the new OONI Probe desktop app. These tests will be integrated into the OONI Probe mobile app as well within 2020.

Website testing. Due to bandwidth constraints on mobile, the default setting is configured to test a random sample of URLs within 90 seconds. In the OONI Probe desktop app, on the other hand, you will test all URLs included in the Citizen Lab's country-specific and global test lists in one run. You have the option to limit the number of websites you test through the OONI Probe desktop app settings.
While the new OONI Probe desktop app was released in 2019, we plan to publicly launch it soon (once it's more polished). So stay tuned!
Near real-time publication of OONI measurements
As of November 2019, OONI measurements from around the world are published in near real-time! This means that as soon as anyone runs OONI Probe anywhere around the world, their test results are (automatically) openly published within minutes (unless they have opted-out from publication).
This is a major milestone because for the first time, the public can track global censorship events in near real-time. And this is thanks to our colleague Federico Ceratto, who joined the OONI team in May 2019 and built a new fast-path pipeline that makes instant analysis and publication of measurements from around the world possible.
Revamped OONI Explorer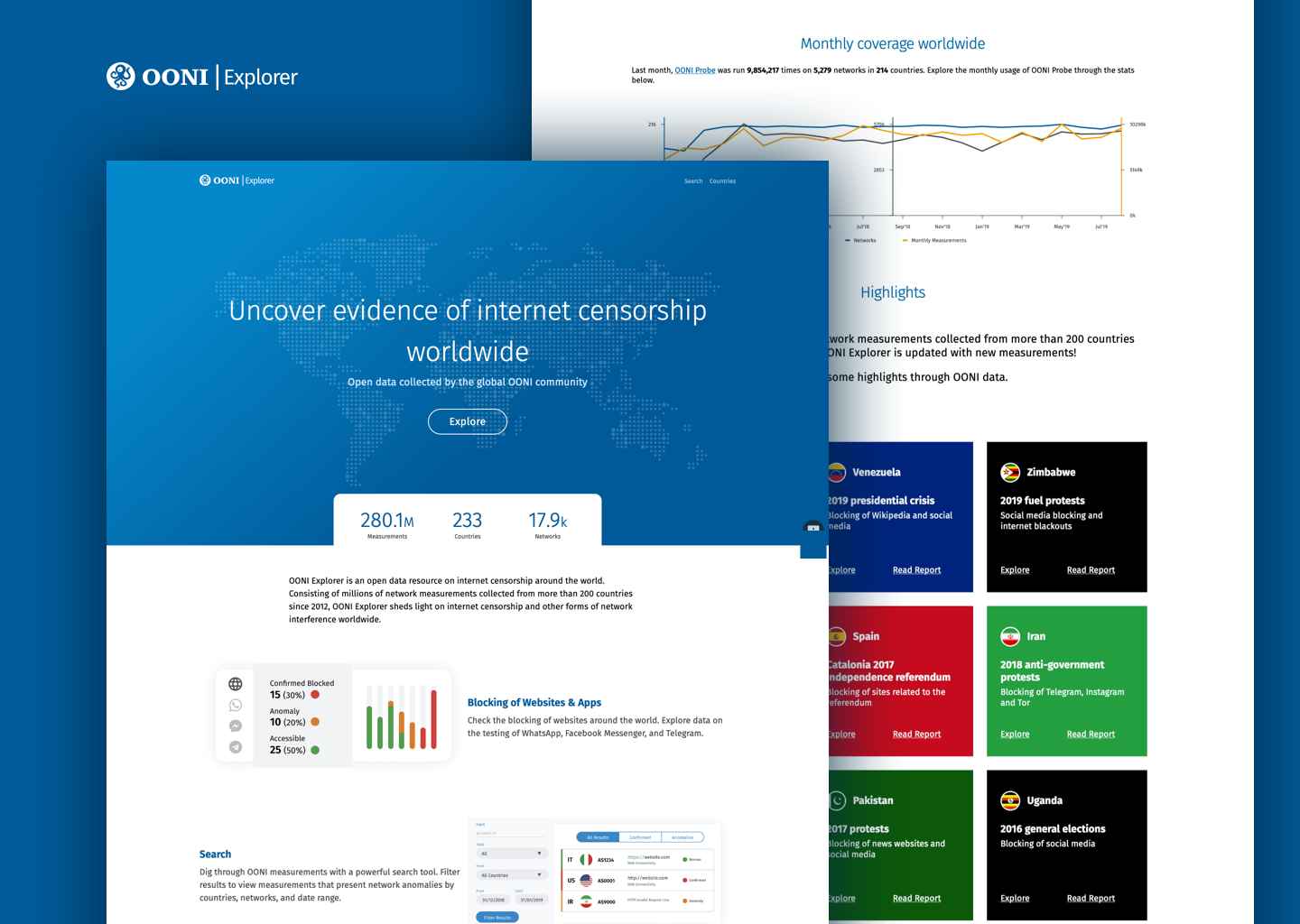 Image: Next Generation OONI Explorer
We launched OONI Explorer 2.0!
Consisting of millions of network measurements collected from thousands of networks in more than 200 countries since 2012, OONI Explorer is arguably the largest publicly available measurement resource on internet censorship to date.
Highlights from the next generation OONI Explorer include:
OONI PostgreSQL MetaDB
To support batch consumption of OONI data, we have made a full copy of the OONI PostgreSQL MetaDB available.
This is the same database that also powers the OONI API and OONI Explorer.
The OONI PostgreSQL MetaDB enables you to set-up a read-only replica of the OONI MetaDB, allowing you to run heavy database queries on your own infrastructure for batch analysis. To enable adoption, we published documentation that explains how to set-up a copy of the OONI MetaDB.
Improved measurements
New OONI Probe tests
We expanded our methodologies by developing the following new OONI Probe tests:
For follow-up measurements, we wrote the following tests:
To ensure that our methods work as expected and to make OONI Probe more resilient, we built a censorship simulation tool (called Jafar) to run experiments and improve the robustness of our tools.
New OONI Probe measurement engine
We released a new OONI Probe engine!
Over the last years, the OONI Probe mobile app was powered by the C++ Measurement Kit library. To enable the integration of tests, improve its maintainability, and iterate more quickly with higher confidence in code quality, we re-wrote the OONI Probe measurement engine from C++ to Go.
The new OONI Probe engine powers both the OONI Probe mobile and desktop apps. We plan to complete the process of making the apps rely entirely on the new golang engine in 2020.
Community
New partnerships
Our network of partners grew in 2019!
Throughout the year, we had the opportunity to establish 6 new partnerships with the following digital rights organizations:
With our growing coalition of partnerships, we will continue to measure and report on internet censorship around the world.
Research publications
In collaboration with our partners (and other community members), we published the following 13 research reports covering censorship events around the world:
OONI workshops and presentations
As part of our community engagement and outreach activities in 2019, we facilitated workshops and presented OONI at the following conferences and events around the world:
OONI partners and other community members facilitated OONI workshops around the world too! Examples include the Open Culture Foundation's OONI workshop in Taiwan and an OONI workshop hosted in Venezuela for local journalists.
Community resources
To support OONI community engagement efforts around the world, we created and published several resources. These include:
OONI-verse
Thanks to the OONI community, many measurements were collected from far and wide.
Every month in 2019, more than 8 million OONI Probe measurements were collected from more than 4,000 networks in more than 205 countries around the world.

Image: Monthly OONI measurement coverage worldwide
Based on this global measurement coverage, many cases of internet censorship were detected and reported around the world. Apart from our reports, many other cases were reported by community members who made use of OONI data as part of their own, independent research efforts.
Some highlights include:
Overall, OONI data became more actionable in 2019, as community members used OONI Probe and OONI data in many interesting ways. Below we share a few highlights from 2019:
OONI data supported a High Court petition in Pakistan. Back in November 2017, we reported on the blocking of several media websites, Facebook (facebook.com and Facebook Messenger), YouTube, Twitter, Instagram, WhatsApp, and Telegram in Pakistan amid protests. Our report – which shared OONI network measurement data collected from Pakistan – was cited as evidence in a petition filed in the Islamabad High Court by Pakistan's Media Matters for Democracy, challenging the blocking of media websites and popular social media platforms during the protests. The petition – filed through Charahgar – challenged the Pakistan Telecommunication Authority's (PTA) authority to block websites without due process. As an outcome, the Islamabad High Court declared that the Pakistan Telecommunications Authority's interpretation of Section 37 of PECA is against the Constitution, and that they cannot regulate content without following the due process, the principles of transparency, and oversight. This is a landmark victory for internet freedom in Pakistan.

Venezuelan partners nominated for 2019 Gabo Award. Through the use of OONI Probe and OONI data, IPYS Venezuela (along with Venezuela Inteligente / VEsinFiltro) has been measuring internet censorship in Venezuela since 2014. They have created a network of volunteer OONI Probe users across Venezuela, who coordinate on measuring and reporting on emergent censorship events. Through the use of OONI data, they have published numerous research reports, documenting internet censorship events in Venezuela on an ongoing basis. Their Intercortados project was nominated for the 2019 Gabo Award, among the 10 best innovation projects.

Harvard's AccessCheck project powered by OONI data. Harvard's Berkman Klein Center for Internet and Society launched AccessCheck, a platform that enables you to check the accessibility of websites around the world. We are excited that AccessCheck is powered by OONI data, along with data collected from virtual private network (VPN) endpoints and virtual private servers (VPS).
We are excited to see how community members make use of OONI data in 2020! If you're interested in working with OONI data and need support, please don't hesitate to reach out.
2020
There's no doubt that 2020 will be a challenging year for everyone around the world.
In light of the escalating global impact of COVID-19 (coronavirus), many digital rights conferences and events have already been cancelled (such as the Internet Freedom Festival and RightsCon), and we'll likely see less of each other in person this year.
Nonetheless, we look forward to connecting more with you online. Join us on the OONI Slack channel to chat with the OONI team and community members from around the world. Please feel encouraged to use the OONI Slack channel as a social space amid social distancing: a space to connect with others, share ideas and thoughts, and to support each other.
We facilitate monthly community meetings on the OONI Slack channel to receive news and updates from the community, collect community feedback on OONI tools and methodologies, address questions, and foster discussions on internet censorship issues. We usually facilitate these meetings at 14:00 UTC on the last Tuesday of the month, but we confirm these details on the ooni-talk mailing list.
We will also explore opportunities to facilitate online workshops and events throughout 2020. If you're interested in facilitating an online OONI workshop to engage people with censorship measurement, we encourage you to do so and we share OONI workshop slides that you can download and adapt.
Ensuring a free and open internet during an emergency, like the current pandemic, is more important than ever. But a few days ago, state-owned CANTV blocked access to a coronavirus information portal in Venezuela. Measuring internet censorship can therefore be a question of public safety.
Throughout 2020, we will continue to improve upon the OONI Probe apps and methodologies. We will continue to improve upon OONI Explorer and our data analysis capabilities. We will continue to report on censorship events around the world, and to serve the internet freedom community.
We hope you all stay safe during these difficult times.